A team from Airdrie Victory Church in Alberta, Canada visited the Victory Children's Home in Kisumu, Kenya. They had such a wonderful experience spending time with the children and helping to improve their home.
There were many things they did during their visit, They were able to paint the Victory Children's Home Logo on the outside of the home so that passersby would be able to easily find us.
Thank your AVC Missions team for all of your hard word and the blessing you were to our children and staff!
Here is what some of the team members had to say about their experience there: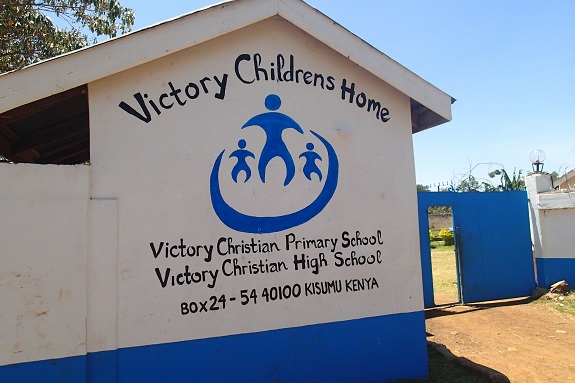 "The trip to visit the kids at the Victory Children's Home in Kisumu was amazing! People say a trip like that is a "once in a lifetime" experience, but I truly hope that it's not. Even though we spent such a short time with the kids, I believe we built bonds that could very well last a lifetime!
The staff are doing a great job managing the orphanage and you can tell the kids are happy by the laughter that echoes through the orphanage! We were there for a short time, but a truly memorable time... I'm already missing the mandazis!"
Chelsea Restall (AVC Missions, TEAM:KISUMU)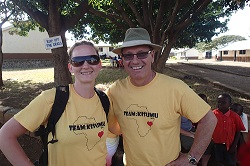 "Going on a missions trip is a life changing event. I was very thankful for the teaching before we left so we were able to be effective. The one thing that we were taught was it is not holiday. It is not. When we first arrived the amount if work was over whelming for the amount of time we had. We went as a unified team and worked every day as a unified team. Whatever each of us was to do at any given time we did it with the love of God in our heart. We were Gods hands and feet when and where he sent us.
The orphanage is well set up, the children are happy and well taken care of. A side note those children treasure their sponsorship letters. Never stop sending your love to them. They think of us as their family. That is more important than the money to them because they see the letters not the money."
Sandi (AVC Missions, TEAM:KISUMU)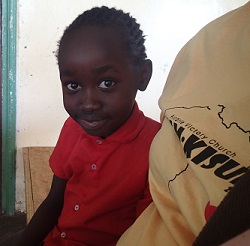 "The trip to Kisumu, Kenya February/March 2014 was one of the most memorable missions trips I've been on! What a wonderful orphanage! The staff there have things running very smoothly and the kids look happy and healthy.
I really enjoyed teaching the boys and girls of all ages some practical sewing skills. They learnt how to hand stitch little dolls together using some leftover fabrics, pieces of an old weave and then stuffed them with small pieces of an old mattress! Very resourceful! One thing that I love to see is how people in Kenya value relationships above all! I'm looking forward to someday being able to go back!"
Rylee Petkau (AVC Missions, TEAM:KISUMU)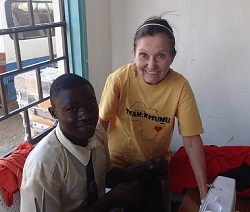 "When I first heard about the trip to Kisumu, Kenya I was so excited and knew right away that I wanted to go help. The trip was so amazing and life changing; the staff there are all great people who really care about the kids. You can't help but to connect with the kids and realize how thankful they are that you came.
What I soon realized was that I had a deep passion to help and serve God in whatever capacity he wanted for me there. I cannot wait for God to open the doors for me to return. This trip has changed my life and has reminded me that "Yes God can use me" for his Glory."
Garth (AVC Missions, TEAM:KISUMU)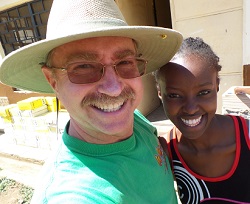 My name is Gary Wondercheck, and I am a pastor. My wife Debora is also involved in ministry and is the founder and director of Arts & Learning, a performing arts school for children.
We have three kids of our own, Chenaniah, Charis and Chara . From the time Dr Hazel Hill brought back the dream of an orphanage to the church here in California several years ago we wanted to be involved. Our desire was to sponsor two children - a boy about the same age as our son, and a girl approximately the same age as our two daughters. We have been sponsoring a boy by the name of Sedrick and a girl named Jamie in Rwanda.
Opportunities opened up and we began sponsoring Chanceline about 3 years ago, and Sederick last year. They have become part of our family! There isn't a morning or night that passes without us praying for them. Our kids have sent letters, photographs and drawings, and have received the same back from our sponsored kids. What a great experience and a joy for our kids to be able to connect with them and to know we have made a difference in their lives.
And in turn, they have positively impacted our lives! It is so rewarding to know that our kids there in Rwanda are healthy, given a good education and brought up in a loving environment where they can know Christ and the hope which only He can give.
Thanks to Dr Hazel Hill for making this a reality, and to Isaac and Serena Terrell, and the whole staff at Victory Family Home of Champions for the great success of these past 3 years! And to Ed and Deb Gallagos and family...we will be praying for you as you begin this adventure as the new resident missionaries there!
Grace & Peace!